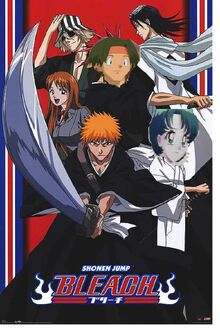 4000Movies' TV-spoof of Bleach (2004). It will appear on YouTube in the near future.
Cast:
Ichigo Kurosaki - Himself
Rukia Kuchiki - Amy/Sailor Mercury (Sailor Moon)
Orihime Inoue - Herself
Uryu - Clemont (Pokemon)
Yasutora Sado - Rai (Tai Chi Chaser)
Renji Abarai - Kenji (Pokemon)
Nanao Ise - Janine Melnitz (The real Ghost Busters)
Yachiru Kusajishi - Buttercup (The Powerpuff Girls)
Sosuke Aizen - Hades (Hercules)
Yoruichi Shihoin - Kim Possible
Yoruichi (Cat) - Chip (Chip 'n Dale Rescue Rangers)
Rangiku Matsumoto - Mai Valentine (Yu-Gi-Oh)
Kisuke Urahara - David (Lilo and Stitch)
Byakuya Kuchiki - Brock (Pokemon)
Grimmjow Jeagerjaquez - Aldrin Klordane (Chip 'n Dale Rescue Rangers)
Ulquorra Cifer - Wiseman (Sailor Moon)
Kon - Alvin Seville (Alvin and the Chipmunks)
Kenpachi Zaraki - Himself
Shunsui Kyotaku - Shaggy Rogers (Scooby Doo)
Jushiro Ukitake - Shang (Mulan)
Soi Fon - Pocahontas
Karin Kurosaki - Herself
Yuzu Kurosaki - Herself
Isshin Kurosaki - Himself
Masaki Kurosaki - Herself
Retsu Unohaha - Tammy (Pound Puppies and the Legend of Big Paw)
Ikkaku Madarame - Darien/Tuxedo Mask (Sailor Moon)
Riruka Dokgammine - Olivia (Alvin and the Chipmunks)
Yukkio Hans - Wart (The Sword in the Stone)
Gallery:
Community content is available under
CC-BY-SA
unless otherwise noted.