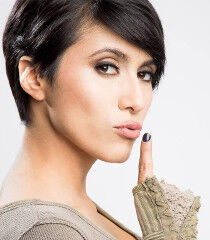 Cristina Valenzuela (born July 11, 1987), known by her stage name Cristina Vee, is an American actress and singer who provides voices for anime and video game productions. Some of her voice roles include Louise in The Familiar of Zero, Nanoha Takamachi in the Magical Girl Lyrical Nanoha series, Mio Akiyama in K-On!, Nagisa Saitō in Squid Girl, Homura Akemi in Puella Magi Madoka Magica, Rei Hino / Sailor Mars in the Viz Media dub of Sailor Moon and the Honoka sisters in Knights of Sidonia. On screen, she is the co-host for AnimeTV with Johnny Yong Bosch, and the second live portrayal of Haruhi Suzumiya in The Adventures of the ASOS Brigade after Patricia Ja Lee.
Voices:
Gallery:
Community content is available under
CC-BY-SA
unless otherwise noted.