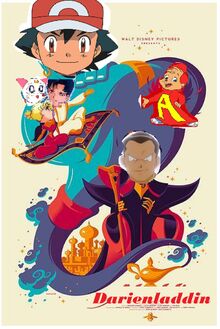 4000Movies Second movie-spoof of Aladdin (1992).
Cast:
Aladdin - Darien/Tuxedo Mask (Sailor Moon)
Jasmine - Serena/Sailor Moon
Genie - Ash Ketchum (Pokemon)
Jafar - Giovanni (Pokemon)
Iago - Alvin Seville (Alvin and the Chipmunks)
Abu - Artemis (Sailor Moon)
Magic Carpet - Himself
Sultan - Kenji Tsukino (Sailor Moon)
Rajah - Baloo (The Jungle Book)
Cave of Wonders - Himself
Razoul - Himself
Razoul's Guard - Himself
Peddler - Max Taylor (Dinosaur King)
Gazeem - Himself
Melon Seller - Professor Oak (Pokemon)
Farouk Apple Seller - Aldrin Klordane (Chip 'n Dale Rescue Rangers)
Another Sellers - Various Peoples
Prince Achmed - Seto Kaiba (Yu-Gi-Oh)
Two Man Watching Prince Achmed - Joey Wheeler and Tristan Taylor (Yu-Gi-Oh)
Belcome Harm Girls - Herself
Fat Ugly Woman - Claudia Vorstein
Woman window - Herself
Cheerleader genie - themselves
Cub Rajah - Himself
Snake Jafar - Glasburgh Dragon (Scooby Doo)
Genie Jafar - Gran Zirconia (Sailor Moon)
Scenes:
Darienladdin Part 1 - "Arabian Nights"/A Dark Night
Darienladdin Part 2 - Darien on the Run/"One Jump Ahead"
Darienladdin Part 3 - Darien Fights with Prince Seto Kaiba/"One Jump Ahead" (Reprise)
Darienladdin Part 4 - Princess Serena's Dream
Darienladdin Part 5 - Giovanni and Kenji's Conversation/Serena Runs Away
H
H
H
H
H
H
H
H
H
H
H
H
H
H
H
H
H
H
Darienladdin Part 24 - Kenji's Announcement/Ash's New Master is Giovanni
Trailer/Transcript:
Darienladdin Trailer/Transcript
Quotes:
Seto Kaiba: You are a worthless street rat. You were born a street rat, you'll die a street rat, and only your fleas will mourn you.
Darien: I'm not worthless, and I don't have fleas.
Trivia:
This is the 2nd movie-spoof of 4000Movies.
Jasmine was sailor moon in Sailor Jasmine
This is the first movie-spoof to have a double feature.
This is also the first movie-spoof of 4000Movies to use the Sailor Moon intro.
Gallery: