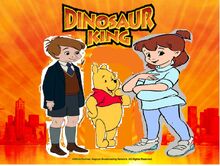 4000Movies' TV spoof of Dinosaur King (2007). It will appear on YouTube in the near future to celebrate the 10th Anniversary.
Cast:
Max Taylor - Christopher Robin (Winnie the Pooh)
Rex Owen - Winnie the Pooh
Zoe Drake - Jenny (Oliver and Company)
Reese - Cecilia (We're Back: A Dinosaur Story)
Spike - Roger Ratcliffe (101 Dalmatians)
Aki Taylor - Anita Ratcliffe (101 Dalmatians)
Ursula - Queen La (The Legend of Tarzan)
Zander - Captain Hook (Peter Pan)
Ed - Mr. Smee (Peter Pan)
Dr . Z - Percival C. McLeach (The Rescuers Down Under)
Helga - Herself
Jonathan - Merlin (The Sword in the Stone)
Seth - Ratcliffe (Pocahontas)
Rod - Sherman (Sherman and Mr)
Laura - Penny Peterson
Jonathan - Sultan (Aladdin)
Dr Drake - Winston (Oliver and Company)
Mrs Drake - Nanny (101 Dalmatians)
Dr. Owen - 
Gallery:
Community content is available under
CC-BY-SA
unless otherwise noted.