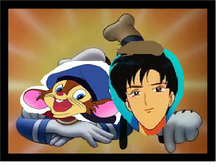 Shorts of Donald Duck cartoons planned to be made by 4000Movies.
Cast:
Donald Duck - Fievel Mousekewitz (An American Tail)
Daisy Duck - Olivia Flaversham (The Great Mouse Detective)
Huey - Sniffles (Looney Tunes)
Dewey - Jerry Jr. (Tom and Jerry Kids)
Louie - Timmy Brisby (The Secret of NIMH)
Chip - Ron Stoppable (Chip 'n Dale Rescue Rangers)
Dale - Ash Ketchum (Pokemon)
List of Shorts:
Fievel's Better Self
Fievel's Nephews
Fievel's Penguin
The Autograph Hound
Clown of the Jungle
Three for Breakfast
Crazy Over Olivia
Out on a Limb
Out of Scale
Corn Chips
Fievel's Applecore
Working for Peanuts
Movies:
Saludos Amigos (4000Movies Style)
The Three Caballeros (4000Movies Style)
Fun and Fancy Free (4000Movies Style)
Melody Time (4000Movies Style)
Who Framed Roger Rabbit (4000Movies Style)
Chip's Once Upon a Christmas
Chip, Fievel, and Tweety: The Three Musketeers
Chip's Twice Upon a Christmas
Trivia:
Fievel also appears in the Chip Chipmunk (Mickey Mouse) cartoons.
Gallery:
Community content is available under
CC-BY-SA
unless otherwise noted.