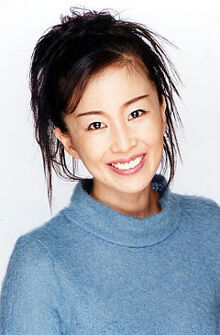 Michie Tomizawa (富沢 美智恵 (formerly 富澤 美智江 Tomizawa Michie, born October 20, 1961) is a Japanese voice actress and singer born in Nagano and raised in Shinmachi, Gunma. Her real name is Michie Ito (伊藤 美智江 Ito Michie). She is most known for the roles of Matsuzaka-Sensei (Crayon Shin-chan), Linna Yamazaki (Bubblegum Crisis), Sailor Mars (Sailor Moon), Sumire Kanzaki (Sakura Wars), and Emi Ogasawara (Ghost Sweeper Mikami). Tomizawa temporarily retired from voice acting before getting married in 2002. She came out of retirement for 2004's Disgaea and 2006's Black Lagoon. She also appeared in a number of Musical Kayou Shows as her Sakura Taisen character Sumire; she retired from the annual performances after getting married but came back for the 2005 show, the final show in 2006, and the 2007 Budoukan show. Although said to have retired from the Sakura Taisen world, she did, however, appear backstage in scenes of Hanagumi Camera and later on stage during some of the later shows. She sang a song in Sailor Moon R, "Eien no Melody" (Eternal Melody) written by Noda Kaoru and composed by Mashita Izumi. She has also recorded songs for several Sailor Moon soundtrack albums, including a version of Wham!'s "Last Christmas" (in English) for the Sailor Stars Christmas album. Tomizawa is fluent in English as well as Japanese. She also returned to the stage of Animelo Summer Live at the Anisama Super Game Song Live 2012 in May 2012 along with fellow Sakura Taisen cast members, Chisa Yokoyama and Urara Takano to perform as the Sakura Taisen Teikoku Kagekidan.
Voices:
Gallery:
Community content is available under
CC-BY-SA
unless otherwise noted.