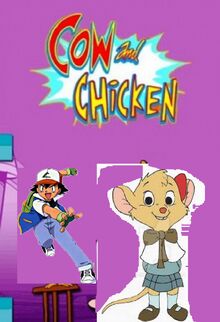 4000Movies' TV-spoof of Cow and Chicken (1997). It will appear on YouTube in the near future to celebrate the 20th Anniversary.
Cast:
Cow - Olivia Flaversham (The Great Mouse Detective)
Chicken - Ash Ketchum (Pokemon)
Red Guy - James (Pokemon)
Mom - ???
Dad - ???
Seasons:
See Also:
Trivia:
This series will be in all NTSC.
Gallery: