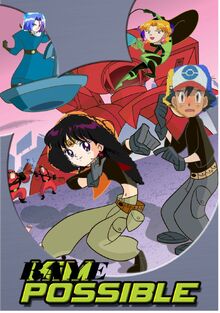 4000Movies' spoof of TV show of Kim Possible (2002). It will appear on YouTube in the near future.
Cast:
Kim Possible - Raye/Sailor Mars (Sailor Moon)
Ron Stoppable - Ash Ketchum (Pokemon)
Rufus - Pikachu (Pokemon)
Dr James
Shego - Cassidy
Seasons:
Trivia:
Ron Stoppable is Ash Ketchum in Pokemon (1701Movies Human Style).
In Danish, both Ash Ketchum and Ron Stoppable were voiced by Mathias Klenske.
Gallery: