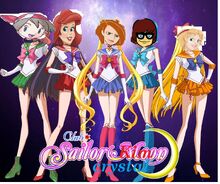 4000Movies' TV spoof of Sailor Moon Crystal (2014). It will appear on YouTube in the near future.
Cast:
Usagi Tsukino/Sailor Moon - Kim Possible
Ami Mizuno/Sailor Mercury - Velma Dinkley (Scooby Doo)
Rei Hino/Sailor Mars - Ariel (The Little Mermaid)
Makoto Kino/Sailor Jupiter - May (Pokemon)
Minako Aino/Sailor Venus - Princess Eilonwy (The Black Cauldron)
Mamoru Chiba/Tuxedo Mask - Ron Stoppable (Kim Possible)
Trivia:
Gallery:
Community content is available under
CC-BY-SA
unless otherwise noted.