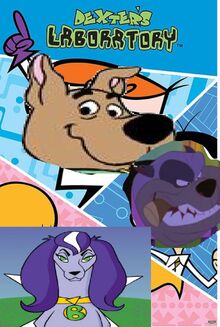 4000Movies' TV spoof of Dexter's Laboratory (1996-2003). It will appear on YouTube in the near future.
Cast:
Dexter - Scrappy Doo (Scooby Doo)
Dee Dee - Brainy Barker (Krypto the Superdog)
Mandark - Carface (All Dogs Go to Heaven)
Dexter's Dad - Scooby Doo
Dexter's Mom - Amber (Scooby Doo and the Alien Invaders)
Major Glory - Chip (Chip 'n Dale Rescue Rangers)
Valhallen - Dale (Chip 'n Dale Rescue Rangers)
The Infragible Krunk - Monterey Jack (Chip 'n Dale Rescue Rangers)
Monkey - Littlefoot (The Land Before Time)
Agent Honeydew - Misty (Pokemon)
Commander - Dr. Taylor (Dinosaur King)
Seasons:
Movie:
Scrappy's Laboratory: Ego Trip
Short:
Segments:
Dial L for Littlefoot
The Justice Rodents
Trivia:
This is the ??? TV spoof of 4000Movies.
Gallery: