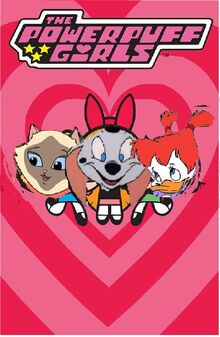 4000Movies' TV-spoof of The Powerpuff Girls (1998-2005). It will appear on YouTube in the near future.
Cast:
Blossom - Cadpig (101 Dalmatians: The Series)
Bubbles - Sagwa Miao (Sagwa, the Chinese Siamese Cat)
Buttercup - Gosalyn Mallard (Darkwing Duck)
Professor Utonium - Darkwing Duck/Drake Mallard (Darkwing Duck)
Keane - Morgana McCawber (Darkwing Duck)
The Mayor - Monterey Jack
Miss Bellum - Gadget
Mojo Jojo - Negaduck (Darkwing Duck)
Fuzzy Lumpkins - Himself
HIM - Money Fist (Kim Possible)
Brick - Lucky (101 Dalmatians)
Boomer - ???
Butch - Honker
the gang green gangs - prince john sir hiss sherriff of nothingham Pete and Hopper
Seasons:
The Powerpuff Girls (4000Movies Style) (Season 1)
The Powerpuff Girls (4000Movies Style) (Season 2)
Trivia:
This the 4th tv show
the Reason why Gosalyn played Buttercup they are tomboys and both green eyes
Darkwing Duck Negaduck and fuzzy both voice of Jim Cummings
Him and Monky fist both voice of tom kane
Gallery:
Community content is available under
CC-BY-SA
unless otherwise noted.