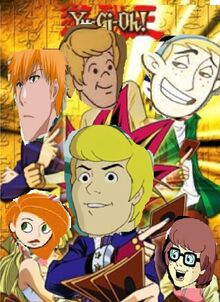 4000Movies' TV spoof of Yu-Gi-Oh! Duel Monsters (2001-2006). It will appear on YouTube in the near future.
Cast:
Yugi Muto - Shaggy Rogers (Scooby Doo)
Yami Yugi - Fred Jones (Scooby Doo)
Seto Kaiba - Ichigo Kurosaki (Bleach)
Joey Wheeler - Ron Stoppable (Kim Possible)
Tea Gardner - Velma Dinkley (Scooby Doo)
Trista Taylor - Alan M. Mayberry (Josie and the Pussycats)
Mokuba - Sammy (Sailor Moon)
Solomon Muto - Merlin (The Sword In The Stone)
Mai Valentine - Kim Possible
Maximilion Pegasus - Malachite (Sailor Moon)
Bakura - Garrett (quest for Camelot)
Yami Bakura - Rebeus (Sailor Moon)
Community content is available under
CC-BY-SA
unless otherwise noted.